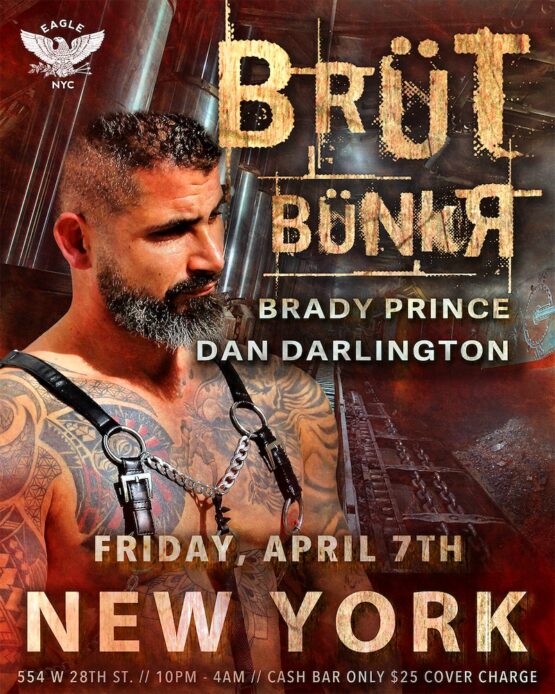 Event details
| | |
| --- | --- |
| Date: | Friday, April 7th, 2023 |
| Artists: | Dan Darlington || Brady Prince |
| Venue: | The Eagle NYC |
| Address: | 554 W 28th Street - 10001 New York |
Tick tock goes the doomsday clock as the factory whistle wails at The Eagle New York.
The world is burning, but don't go down in flames without a fight! So bring your leather and gear and be as brüt and queer as you wanna be! Forget happy hour and cocktails: this is Brüt Bünkr!
When the world goes to hell, we head to the Bünkr. BRÜT, New York's longest running underground gear party at the THE EAGLE NYC is a match made in heaven.
The fallout is raging under the last air raid siren but we aren't gonna quit! Duck cover and run to the Eagle to get radioactive with Brut Founder and DJ Dan Darlington and Chicago's darling pup Brady Prince who is spinning the House scene with swerve and swag.
In NYC's showers of lights and glamour, we choose the underground. Take heed as we descend into the depths of House Music and Disco. The EAGLE NYC will be the scene as we transform the night into a place of debauchery and dancing. This party is going to be for ferocious house heads, disco savants, and serious rebel rousers. Be ready to sweat on the dance floor while the lights surround you with the sickest beats and the hottest men.
You're alive at the end of the world, so come out and dance like you GAF!
10 p.m. – 4 a.m.
Ticket available at the door
Cash Bar only $25 Cover Charge