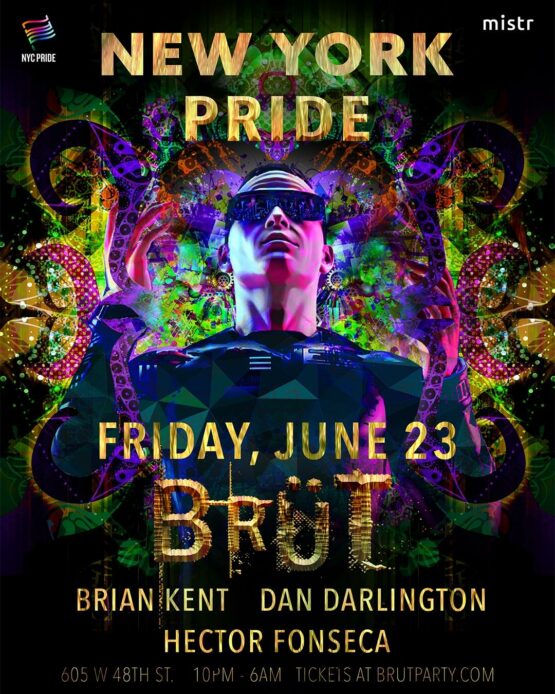 Event details
| | |
| --- | --- |
| Date: | Friday, June 23rd, 2023 |
| Artists: | Hector Fonseca || Dan Darlington || Brian Kent |
| Venue: | HK Hall (formerly Stage 48) |
| Address: | 605 W 48th St - 10036 New York |
We're beyond thrilled to announce the addition of our SELLOUT event BRUTALLY PROUD to the OFFICIAL Heritage of New York PRIDE roster for Friday June 23rd.
Join us for the ONLY 8-HOUR event right in the heart of Hell's Kitchen Manhattan. Embrace love, diversity, and self-expression in the most EPIC NYC PRIDE celebration with a HUGE dance floor MASSIVE Mezzanine level alongside the addition of the Black Hole NEBULA ROOM that is going to have everyone in New York talking about!
Rejoice Children of BRÜT for your salvation has arrived. BRÜTALLY PROUD finally returns to Manhattan to the most convenient QUEEN-SIZED Goliath Hell's Kitchen Entertainment Venue – HK Hall (formerly Stage 48)
The Homo Holy land has been found and our musical pilgrimage into sexuality, spirituality, and sacred connection begins with lights and lasers. Celestial bodies join you on the dancer floor as impulses unify our movements into sweaty serenity. You will not believe your eyes from this mythical production of shows, GoGos, and performers as you enter this Nirvana.
DJ's BRIAN KENT, DAN DARLINGTON and HECTOR FONSECA prepare their tribute as we speed through space and time as the gods ascend our existence to divine intimacy.
Our zen will overtake the pandemonium and open you wide to receive our gifts of Hedonistic pleasures. 8 hours of nonstop magical house music to fracture reality and release you to infinity.
605 W 48th St, New York, NY 10036
Doors at 10pm-6am
Doors 10pm-6am