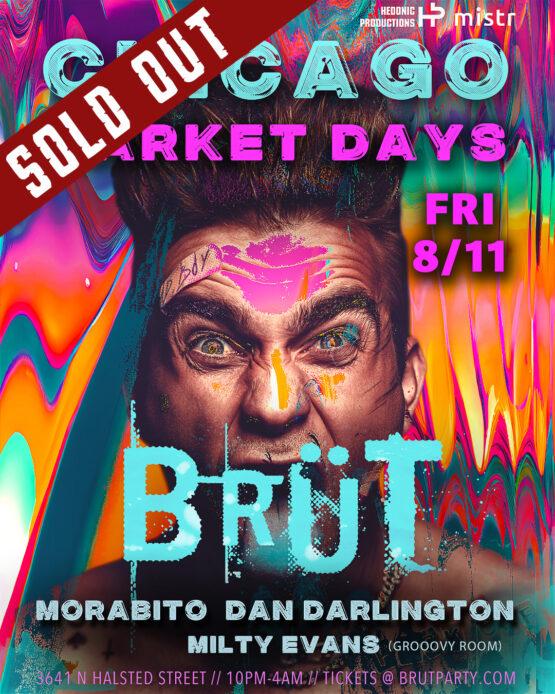 Event details
| | |
| --- | --- |
| Date: | Friday, August 11th, 2023 |
| Artists: | MORABITO || Dan Darlignton || Milty Evans |
| Address: | 3641 N Halsted St - Chicago |
| Share: | |
Online tickets are SOLD OUT! There will be a very limited number of tickets available at the door and after they sell out we'll accommodate based on real-time capacity (1 out 1 in). We do not use third-party resellers. Please join our waiting list, and you will be notified if additional tickets become available or someone wants to resell their tickets.
It's Lucy in Sky illusions and Fear and Loathing delusions! The BRÜT party, Chicago's favorite Sell-Out event is excited to kick off the biggest gay summer festival weekend in CHICAGO MARKET DAYS.
The BRÜT Party CHICAGO MARKET DAYS is unleashing warped dreams and wildest imaginations for a renascence of music and visual marvels. Out of this world light shows with visionary lasers illuminating the walls in all directions while you sweat along to the beats. Lose yourself in the dazzling visuals from Dan Darlington's twisted mind, and let his technicolor figments and vivid fabrications send you soaring.
Be taken on a kaleidoscopic journey of colors and visuals that will set your imagination alight. This trip will impact you like the Beatles!
DJ's MORABITO and DAN DARLINGTON are ready to get you groovy and pump out that dopamine. A musically triumphant pairing that NEVER disappoints! They have carefully crafted a unique mix of tech house, house and tribal music that is guaranteed to make everyone groove. While new addition and Chicago Favorite MILTY EVANS makes his BRÜT Party debut and ignites the "Grooovy Room" with a long set and a whole journey from light to dark! Feel your feet unshackle as the music ascends your mind to new heights – this will be an experience of unforgettable sensory overload.
Slip away from reality as we explore this dreamscape of glowing hues – get ready to have your mind bent and body set free while the beats take control! So get down, let go, and release at the Brut Party. It's going to be a major psychedelic journey that will have you dancing the night away and feeling as if you've entered a new, vibrant world.