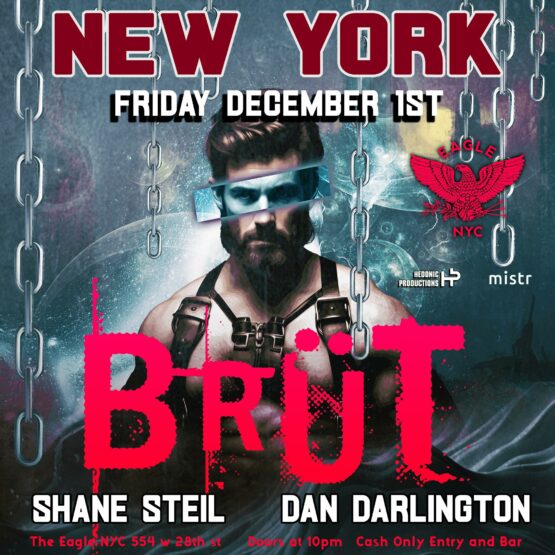 Welcome to our BRÜT WINTER Sanctuary, THE CLIMACTIC end-of-the-year soirée at EAGLE NYC. Throbbing with a surplus of tantalizing, shirtless men and the electrifying thrill of raw TECH HOUSE MUSIC. Here, under the watchful gaze of the ancient gods and the shimmering city lights, you're invited to delve into the sultry divide between naughty and nice, and kindle an inner fire that outshines the fiercest winter chill.
This isn't your typical circuit party. This is the largest underground gay party in New York that audaciously challenges tradition and playfully flirts with transformation. Our sensuous tribute to the longest night of the year and the rejuvenation that follows.
As winter swathes New York City in a seductive shroud of darkness, our sizzling event detonates in the city's pulsating gay heart. This pagan spectacle ricochets between risqué and reverent, with the frosty allure of Krampus and the warm charm of St. Nick entwined in a yuletide rhapsody.
With Christmas still coyly out of reach, and 24 days away, the atmosphere buzzes with festive revelry. A heady blend of potent libations and desire, igniting memories of past decadence and hinting at the debauchery yet to unfold.
So, shed your inhibitions and surrender to the euphoria of the season. You'll soon discover it's a thrilling ride into the depths of darkness, emerging into the radiant promise of dawn. Join us, and let this be a night of unparalleled exhilaration.
Tickets will be available only at the door, $30 cash cover! Subscribe to our email list HERE and mark your calendars for one of the most awaited gay parties in New York.
Dress Codes
We encourage you to express yourself freely in jockstraps, underwear, harnesses, or leather – all are welcome here. A clothes check is available for your convenience.