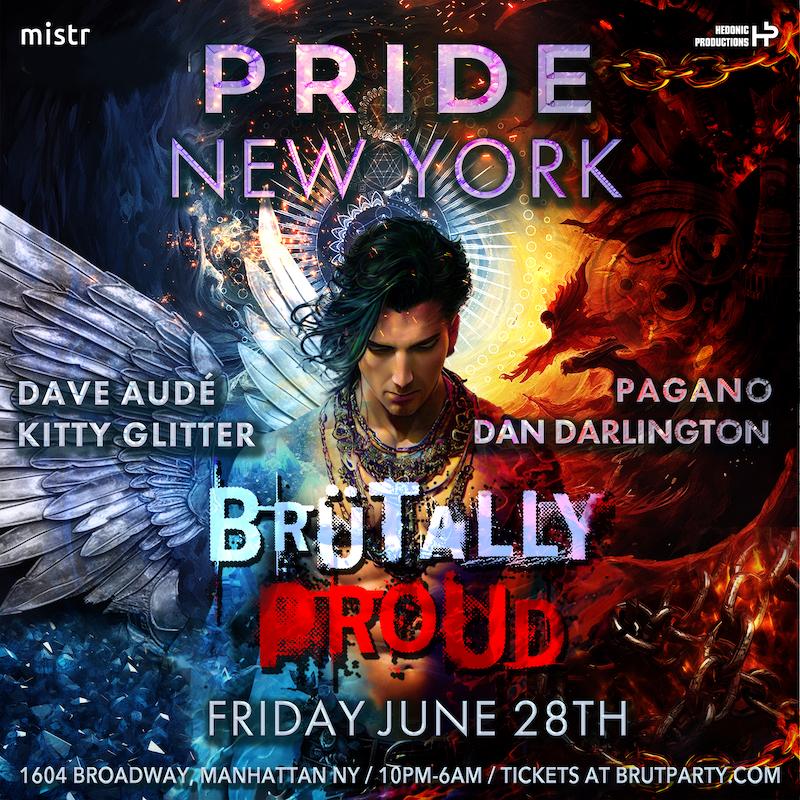 Welcome to our three-floors of frenzied festival magic, a titular extravaganza that is an official event for NYC Pride 2024! Picture all corners of the astral universe converging into a single point of bliss and enlightenment, transforming into a playground of pure adrenaline and forbidden fruit. 'NIRVANA' will exist momentarily at one of the biggest and newest venue right in the middle of TIMES SQUARE (name to be announce soon), spanning across TWO MASSIVE dance floors on three levels.
HEAVEN is located on the first two floors of our celebration complex . A haven for all things Gay Pride , Heaven is a celebration of love in all its forms. Here, the wild music of DJs KITTY GLITTER AND DAVE AUDÉ, takes on a life of its own, offering up a unique kind of freedom. It's a place of self-indulgence, where the rhythm and VOCALS empower you to be unabashedly you.
On the third floor, you're welcomed by the smoldering embrace of Fire, pulsating with the energy from the HELLION stage. Here, DJs DAN DARLINGTON AND PAGANO revel in the power of music, detonating beats that compel you to move, dance, and lose yourself to the beat. This fiery stage, a testament to the allure of the taboo and sensuality, is a naughty indulgence fueled by the HEAT of dancing bodies.
Finally, at the heart of it all, is 'NIRVANA'. More than just the stages – it's a state of mind. It's where the Elementals converge, where music and magic intertwine to create an experience of pure euphoria. It's a place of Zen, a place of enlightenment, a playground where reality and fantasy become one.
This is no ordinary Pride event in New York. From the sexy Go-Go dancers to the allure of the Hell on Earth DARK ROOM, and the friendly and inclusive atmosphere to the total queer rapture, we've got it all. We're not just a circuit party in NYC; we're a movement, a celebration, a master of the beat, and the best gay experience for New York Pride.
The entire venue is easily accessible with both stairs and elevator access to all floors, ensuring convenience for all our guests. Overlooking the dance floors is a massive mezzanine, providing an aerial view of the vibrant scene below.
Dress Codes
We encourage you to celebrate NYC Pride 2024 expressing yourself freely in jockstraps, underwear, harnesses, or leather – all are welcome here. A clothes check is available for your convenience.